Incrocio Manzoni 6.0.13 IGT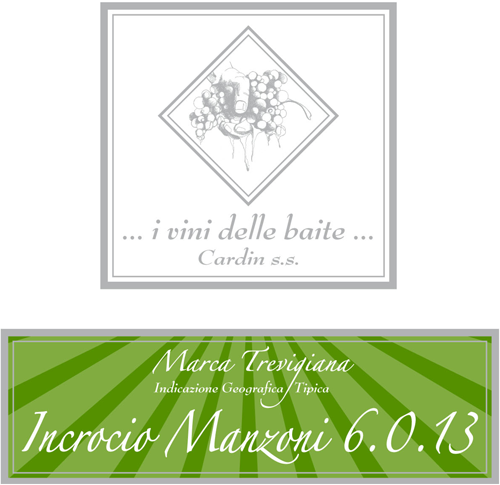 sellcode;

IM6013-01

Alcohol:

12.5% vol

Acidity:

5.1 g/l

Sugar:

0,8 %

Served at di

10-12°
Description
This wine is the result of the studies made in the thirties by the prof. Luigi Manzoni, who was for several years headmaster of the School of Viticulture and Wine Growing of Conegliano, l' Incrocio Manzoni 6.0.13 is made of a WHITE PINOT enriched with pollen of RIESLING RENANO. In this way is obtained a wine of a hight class, always and absolutely superior to the White Pinot, with the aromatic nuance, soft and delicate of the Riesling Renano. This is one of the most representative wine of our production.
Vineyard
These vines adapts both to the stony dry and poor soils of the "grave del Piave", and to the clayey soils of the plain and hills, provided they are well exposed to the sun and poor of humidity. Its grape is little, short-cylindrical, with a medium compactness, a visible peduncle. The acinus is medium-little, regular and with a spheric form. Its colour is of a light yellow with greenish highlights. It has a good body and is extraordinary balanced, it has noble and delicate scent that recalls the flowers in the fields at spring and the honeycomb. The test is dry and reminds of fruits, cool and harmonic.
Harvesting
end of August, beginning of September.
Vinification and refining
After the squeezing a soft pressing of the peels is made, then the must is leaved to ossidate in contact with the peels up to the end of the fermentation process. Into stainless steel tanks at a controlled temperature until the bottling.
Combination
It is optimum between meals, and with first course especially with creams, vegetable soufflè and also with white fishes.